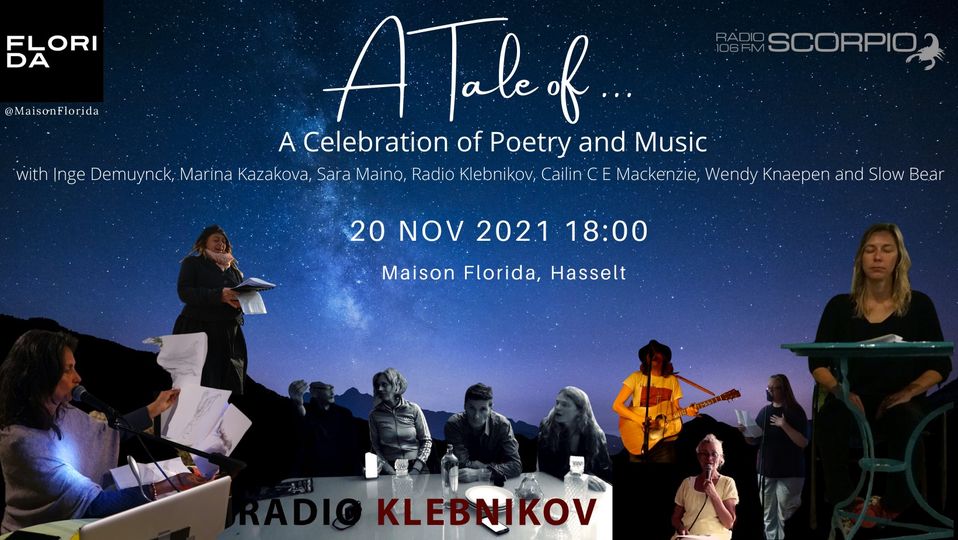 Saturday, 20 November 2021, 18:00
Maison Florida, Hasselt (Belgium)

A TALE OF…
A celebration of performing poetry and music

Featuring:
18:00 – 18:10 – Inge Demuynck (BE) – Thought Intention Session
18:10 – 18:40 – Marina Kazakova (BE) and Sara Maino (IT) – Live Poetry Performance 'A TALE OF TWO' 
18:40 – 19:00 – Radio KLEBNIKOV (BE) – Free Lyricism
19:00 – 19:10 – Wendy Knaepen (BE) – Music performance: "Жаворонок" M. Glinka, "Caro mio ben" Giuseppe Giordano, "Nel cor più non mi sento" Giovanni Paisiello
19:10 – 19:15 – Cailin Mackenzie (BE) – Live recital
19:15 – 20:00 – Slow Bear (BE) – Music performance
20:00 – 20:15 – Swen O.Heiland (DE) – Music performance The show will be broadcast live from 18:00 till 20:00 by Radio KLEBNIKOV, a weekly lyrical radio show on Radio SCORPIO!
Listen to Radio Klebnikov on: https://www.radioklebnikov.be/station/rkonline

'A Tale Of…' brings together poets and musicians to demonstrate the power and beauty of the muse. 
The centerpiece of this evening is 'A Tale of Two', a 30-min multimedia poetry dialogue and meditation on love, life, art. It is a collaboration between two poets Marina Kazakova (BE) and Sara Mano (IT). They take a road through the favourite verses of great poets – alchemists from different centuries, as sparkles. You just need to listen – and we will hear the innermost secrets, learn about the muses of Sappho, Francesco Petrarca, Dante Alighieri, Johann Wolfgang Goethe, Marina Tsvetaeva, Igor Severyanin, Joseph Brodsky. The answers to all our questions are stored in encrypted messages of poets, they contain the whole palette of human feelings – love and grief, resentment and forgiveness, sin and temptation. You can overcome whole distances without fear, and stop 5 millimetres from your fate – this is the discovery they want to share in their new performance through the voices of famous poets and their own.