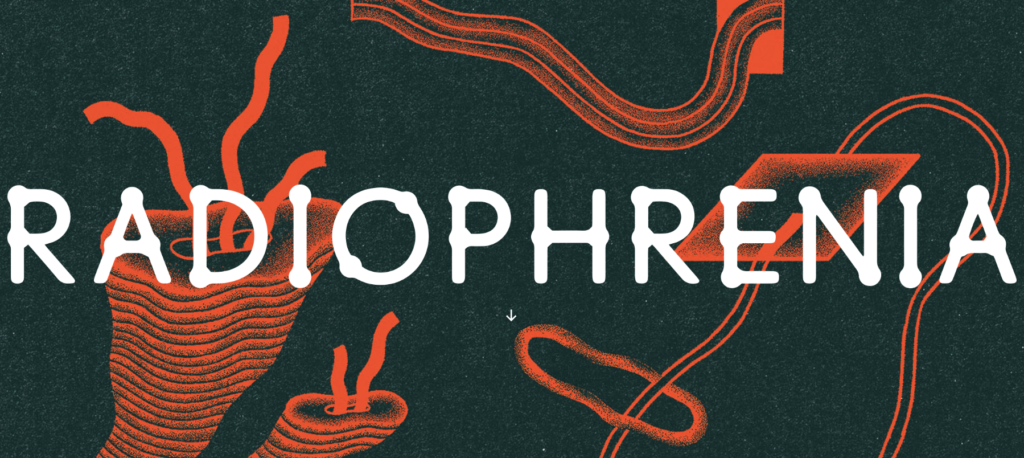 BROADCASTS ACROSS GLASGOW ON 87.9FM
24 HOURS A DAY: 21st August – 3rd September, 2023
RADIOPHRENIA is a temporary art radio station broadcasting intermittently from the Centre for Contemporary Arts in Glasgow.
The broadcast schedule includes a series of 16 newly commissioned radio works, 14 Live-to-Air performances as well as live studio shows, screenings, shorts and pre-recorded features. As in previous years the majority of the programme will be made up from selections submitted to an international open call for sound art and radio works.

Shorts 23 – 29 August 2023  1:00 pm – 2:00 pm
1 – Sara Maino – Cafè Europa (14:41)
2 – TaQuid – Touchy Feely (2:54)
3 – Ash Walker (Rekevant Elephants) – The Certainty of An Uncertain Future (3:35)
4 – João Pedro Oliveira – Neshamah (11:28)
5 – Laird Lee Kirk – Drones (4:29)
6 – Pelayo Del Villar Flores – [in]comunicado (5:07)
7 – Michael Kelly – Compiled journal of Timothy Yod, chrononaut (15:44)
1 – Sara Maino – Cafè Europa
Editing and direction Sara Maino
Poems and Voices by Sara Maino and Marina Kazakova
Soundscapes recorded by Sara Maino all around Europe
Sound effects from the free archive of BBC Rewind
Traditional Music played on a radio (Katioucha Otchi Tchornye performed by Sirba Octet)
Two characters (Europa and the East-Comer) meet in a café in an unknown city.
They confess their visions, feelings and memories to each other, giving the sense to seemingly solipsistic monologues.
Supported by Research Foundation Flanders and LUCA School of Arts/KU Leuven
Premiered at Festival internazionale di poesia Palabra en el mundo di Venezia 2023
Sara Maino (b. Arco, Italy, 1970) is an Italian audio-visual artist, poet and performer, film and theatre director and a community-engaged researcher. She studied Literature and Philosophy at the University of Trento and undertook a non-formal education in theatre, cinema, art. She's studying Philosophy at the University of Trento. She worked for Rai Radiotelevisione Italiana as an author and multimedia expert and curated two radio programs on poetry and collective memories. As an educator she works with Italian and Belgian schools, museums, associations. Her research is focused on sounds and field recording, on the memory's collection of local communities, on storytelling. Her goal is to develop the awareness of active listening, being also inspired by the research on soundscape's studies.
She's the author of theatrical shows and multimedia poetry performances. She has performed at literary festivals, events, to art galleries in Italy and in London, Norway, Greece, Lithuania, Bosnia, Ireland, in the Netherlands, Bulgaria, South Korea.
She won the art national contest "Brocche 2.0" with her sound installation in 2013. Her audiovisual installations, films and paintings have been shown in solo and collective exhibitions in Italian museums and galleries, in Germany and Belgium.